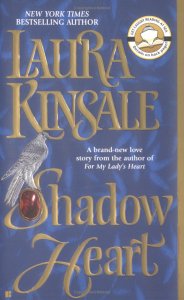 © 2004 - Berkley Trade
(questa edizione)
This long-awaited follow-up to Kinsale's last book, For My Lady's Heart (1993), takes place in 14th-century Europe, where Allegreto-assassin, pirate, brute and bastard son of the Navona family-attempts to reclaim his birthright in the Italian principality of Monteverde.
To this end, he captures Elena, the princess of Monteverde, and makes her his wife in a particularly violent sex scene ("She met him with a fierce reply, opening her mouth against his shoulder, a willing she-cat to his leopard, biting him as viciously as if she could draw blood").
As Allegreto and Elena journey to Italy to face Franco Pietro, Elena's former fiancÚ and a rival of Allegreto's family, lust and affection spring between the two (in that order), but Elena's disdain for Allegreto's ability to murder without remorse gives rise to an abundance of romantic tension and some intense love scenes.
Kinsale's characters speak in stilted phrases resembling Middle English, and she loads the book with historical detail, making it both realistic and ponderous.
Those who have waited 11 years for Kinsale's return will lap up this romance, but others will be turned off by its length and its controlling, sometimes cruel, alpha male hero.
N.B. Questo romanzo - a quanto ci risulta - non Ŕ mai stato tradotto in italiano.